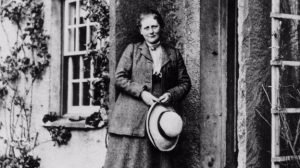 Beatrix Potter (1866–1943) is still one of the world's best-selling and best-loved children's authors. She wrote and illustrated 28 books that have been translated into more than 35 languages and sold over 100 million copies.
Born in Kensington, London, she later moved to Hill Top Farm in Cumbria and on her death bequeathed it, along with 13 other farms and over 4000 acres of land, to the National Trust.
Being born a daughter of the Victorian upper-middle class, Beatrix had a typically restricted and often lonely childhood. She rarely spent much time with her mother and father, and, being educated at home by a governess, had very few opportunities to meet other children.
The young Beatrix was self-taught. She copied from nature or from books and drawing manuals, and studied the works of Constable, Gainsborough and Turner in the Royal Academy exhibitions.
Grateful that her education was largely neglected, she said it would have rubbed off some of the originality.