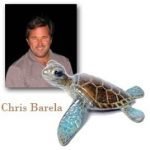 Marine Artist ~ Photographer ~ Sculptor
Chris Barela spent his formative years surfing in Orange County in Southern California.  Having achieved great success in the world of competitive professional surfing, Chris moved his home and studio to the big island of Hawaii.
Chris' first-hand observation of the marine life near his home enables him to sculpt magnificent undersea creatures- from the tiniest seahorse to muscular game fish, such as Marlin.
Through careful study and documentation, Chris brings life to his favored subjects using the ancient method of lost wax casting.
Of particular interest to Chris, are the charming turtles that he often sees from his surfboard. The wisdom and playful demeanor of these sage elder statesmen who reside beneath the waves provide Chris with endless subject matter for his artwork.
"Each turtle has a unique personality; the way they cruise around at a leisurely pace is a reminder to us humans to slow down and enjoy life."