Self-taught artist Derrick Paul Fielding was born in Walton, Liverpool in 1965. From an early age he loved to draw, usually on the back of rolls of wallpaper provided by his father, a painter and decorator. Art was his favourite subject at school and when he left he served an apprenticeship as a sign-writer at nearby Aintree racecourse painting the enormous advertising hoardings dotted around the course. This period would influence his animation and graphic style of painting later in life.
Encouraged by friends and family he loved to paint nostalgic water colour scenes of Liverpool and the success of these led him to try painting for a living in 2007.
Now living and working in the Lancashire, he takes great inspiration from the surrounding fields of cows, sheep, horses and many other animals.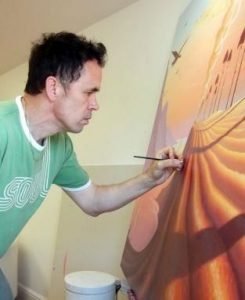 Says Derrick, 'My family and I always head for the coast or the hills whenever we holiday or take days out. A great source of inspiration comes from the nearby Lake District where I see the warmth and humour of the North – a spectacular mountain view can often be softened by a washing line of the week's underpants and bras!
The Lake District in particular is a rich hunting ground for my ideas – bleak and barren landscapes broken by trees, gnarled and twisted by the wind.Other places of interest to me are Cornwall, the west coast of Ireland and the Borders and Highlands of Scotland.
My aim is to create dramatic, vibrant scenes with a hint of quirky humour. Painting seems so similar to music to me. I'm always trying to create the most amazing composition that people won't be able to resist and purchase. A bit like creating a number one record I guess'