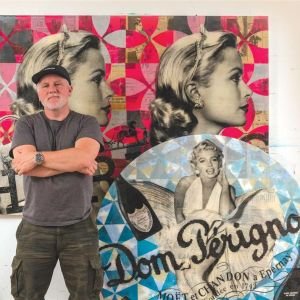 Chronicling a fascination with 1950s and 60s iconography, Robert Mars creates artwork that celebrates the commonplace objects and icons of an America long past in a thoroughly modern, and exquisitely constructed, manner. His eye for a distinct facet of American history is impeccable, and his ability to manipulate both the colour and wordplay of vintage printed material has earned him reference with the likes of Andy Warhol, Robert Rauschenberg, and Richard Diebenkorn, among other masters from the School of Pop.
By taking inspiration from the Golden Age of American popular culture and celebrating figures of the 1950s and 60s, Mars artwork chronicles an evolving relationship with celebrity. Through the application of a rich color palette and tongue in cheek attitude, Mars paintings evoke a vintage quality of design and pay homage to the idealized age of growth and hopefulness that was prevalent in the USA at the end of World War II. A time before the internet and mobile technology, where visual information was not constantly blasted to millions, and there was no such thing as instant digital celebrities, where instead people lived with the myth of the unique, untouchable and unforgettable personalities of Marilyn Monroe, Elizabeth Taylor, James Dean, Audrey Hepburn, Elvis Presley, and many others.

By merging his own concept of personal idols with those of mainstream culture, Mars is able to focus his work on a deeper analysis of the Golden Age of Americana. His early work focuses on many of the architectural and mechanical forms of the 50s and 60s, where muscle cars, motels, kitschy logos, and hulking monuments to the "modern" feeling of the time reigned supreme. More recently, however, Mars artwork has shifted toward the culture of celebrity, and he is strikingly attuned to the fact that these instantly recognizable and larger than life personalities continue to resonate not only with contemporary American culture, but with a worldwide market.
A graduate of Parsons School of Design in New York, Mars often references his decades as a graphic designer in his work. Mars artwork is exhibited worldwide including museum, corporate, and private collections in Munich, Tokyo, Amsterdam, London, Boston, New York, Los Angeles, Laguna Beach, Paris, Aspen and Dallas.