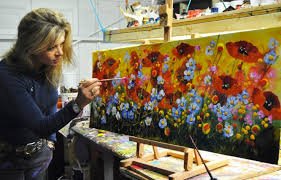 Rozanne is the epitome of fun.
She is a flamboyant gregarious character with a unique creative imagination that knows no bounds.
Full of wit and imagination ; exciting and entertaining ; and full of energy as mirrored by her artwork.
She is now one of Britain's leading and best selling artists.
She was born in Zimbabwe and lived there for 40 years until political circumstances meant moving to England. She exhibited all over Southern Africa and her works were purchased to hang in many banks and boardrooms from Guernsey to Ghana. She moved to England in 2002 where she adapted to a new environment with an optimistic determination to succeed and brought a breath of fresh air to the British contemporary art market.
The colour and the personalities of her animals, the depth and life given to her flowers, not to mention the comedy that characterises her coastal and town scenes, all give a clue to her sense of humour and outlook on life.
Rozanne has developed in her work a style and a technique which make each and every painting totally unique. Having had no formal art schooling, Rozanne has drawn upon her natural flair to cultivate her talent that is so evident in her work.